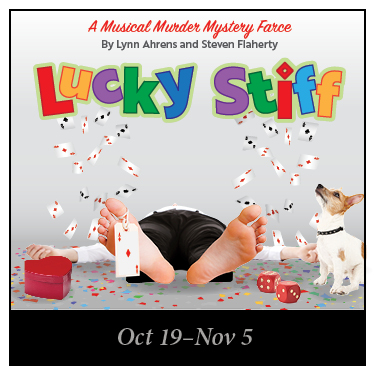 Lucky Stiff
Based on the novel, The Man Who Broke the Bank at Monte Carlo by Michael Butterworth, Lucky Stiff is an offbeat, hilarious murder mystery farce, complete with mistaken identities, six million bucks in diamonds and a corpse in a wheelchair. The story revolves around an unassuming English shoe salesman who is forced to take the embalmed body of his recently murdered uncle on a vacation to Monte Carlo. Should he succeed in passing his uncle off as alive, Harry Witherspoon stands to inherit $6,000,000. If not, the money goes to the Universal Dog Home of Brooklyn or his uncle's gun-toting ex!

Performances are October 19 - November 5 on Thursday, Friday, Saturday and Monday evenings at 7:30 pm. There will also be a Saturday matinee on November 3 at 3:00 pm.

Tickets are $12/Adults and $11/Students & Seniors (age 55 and older). Matinee is $1 less. What a great price for quality live theater!

Click on the Current Show button for more information.